BIKER SUNGLASSES - GXR Sunglass, Black Frame, Anti-fog Amber Lenses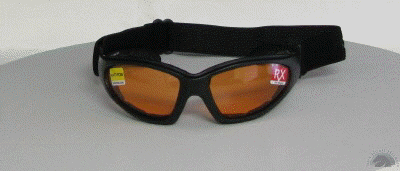 These GXR are sunglasses setting the standard for aggressive styling and convenience they include a slide and snap adjustable strap, to allow you to quickly convert from sunglasses to goggles and back again in a snap. Bikers know we don't want to take too much time dragging around we want to get back in the wind.  
This lightweight durable frame is constructed from Grilamid thermoplastic and utilizes a soft rubber at the temple to prevent slipping. The GXR also features the added comfort of closed cell memory foam which adjusts to the shape of your facial contours and returns to its original shape after each use. 
Features:
Wraparound sunglasses with anti-fog polycarbonate lenses
Closed cell memory foam allows ventilation while providing a cushioned lining to protect the eyes from wind and dust while you are flying down the road
Flexible polycarbonate frame wraps securely around the face
 small rubber strips at the end of each temple keep the eyewear in place
Micro fiber carrying case included
100% UVA/UVB protection
Will Float in water
Additional Information:
Color- Frame: Black
Color- Lenses: Amber
Weight:  1 ounce
Construction:  Polycarbonate (Lenses) Polycarbonate (frames)
Other: Lenses are not interchangeable / Rx Limitation: +/-3.50 sph +/-2 cyl / float in water
NOTE: Please allow 2 business days for item to leave the warehouse.